Accessories

---
Industrial Access SA -
Acces & Lifting Equipment Division

Phone +4021 313 02 00
Mobile +40 788 NACELA

2750 RXJ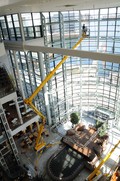 * Click on the image to view
High specifications – Huge outreach

The diesel engine power allows the lift to traverse soft muddy terrain and grassed inclines. Gradeability is 35%, equivalent to 19.3°. Combined with the strong, non-skid crawler tracks the platform truly provides cross country access. The compact dimensions allow access in to narrow and awkward areas.

The all-terrain features are not only for park and woodland areas, but also for working internally for example in shopping centres. The average force from the tracks is only 30 N/cm². The low force and the non-marking tracks offer optimal protection when driving on vulnerable surfaces.

An outreach of up to 15.5 m and a zero tail swing articulating riser give an exceptional 10.5 m up and over reach. The long movable jib enables fine adjustment. A maximum working height of 27.5 m together with the exceptional outreach offer huge versatility in application. High utilisation means cost efficiency.

The manual levelling of the stabilizers ensures safe set up in the most difficult situations the first time and every time. Deployment is actually possible on uneven ground of up to 35%, allowing set up on hilly ground, steps or banks.
If you are interested please press Contact Form -->

Technical features

Max. working height
27.5 m
Max. outreach
15.5 m
Basket size
1.25x0.8x1.1 m
Travelling length
7.50/6.75 m
Travelling height
2.19 m
Travelling width
1.50/1.10 m
Operational width
4.60/3.75 m
Rotation ±
355°
Max. basket load
250 kg
Total weight approx
5050 kg
Turntable basket ±
41°
Battery
24 V 400 Ah/5h
Charger
24 V 30 A
Transformer
24 V 50 A
Gradeability across slope up to
35 % 19.3 °
Gradeability up and down slope u...p to
35 % 19.3 °
Deployment ability procent
40 % 19.3 °
Diesel motor
14 kW 18.8 hp *2750 RXBDJ
Automatic stabilizer levelling s...down
Option
Flash lights - crawler
Option
Non-marking tracks
Option
Spotlight in basket O16
Option
Transformer - crawler
Option
Wireless remote control (drive o...nly)
Option
Photo Gallery